19
Unless you live in a cave or don't care about Christian in-fighting, you probably know about the controversy over Rob Bell's book Love Wins. The latest blow was struck when Francis Chan released a promo video for his own book-length response, called Erasing Hell. The book came out at the beginning of July, not quite four months after Love Wins released.
In the interest of full disclosure, I'm not a huge fan of Chan. But given the uncharitable nature of the discussion so far, I committed to reading the book as generously as possible. Here's my take:
The Good
First, I have to commend Chan for the tone of his book.* One major detraction for me in reading and rereading Love Wins is Bell's (sometimes not-so) subtle jabs at New Calvinist theology. Even though I agree with a lot of Bell's jabs, they're subtle and feel underhanded. If we're going to talk about it, let's just put it out on the table. To Chan's credit, he does this for the most part. He directly cites Bell (and other authors with whom he takes issue), and even applauds Bell a few times.
It seems at the outset that Chan is going to nuance his arguments carefully, and pay great attention to detail. He says, for instance:
It's important to understand that Universalism comes in many shapes and sizes. This is why we have to be careful about slapping the label Universalist on people who say that everyone will end up being saved. The term Universalist is about as specific as the term Baptist. If you call someone a Baptist, all you've said is that they don't baptize babies—beyond this, it's pretty much up for grabs.… It's important, then, to understand that Christian Universalists believe that salvation is by grace through faith in Christ and Christ alone. There's nothing untraditional about this. The difference is that they believe people will have another chance (or many chances) after death to believe in Jesus and be saved.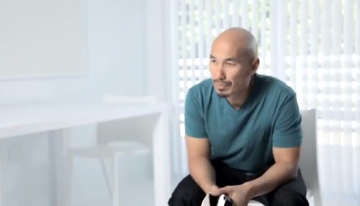 These are a couple of really good, charitable distinctions Chan offers to the larger conversation happening right now. Frankly, they're distinctions that no one else who's got a big beef with Love Wins is making. I applaud him for trying to steer the tone of the whole discourse in a healthier (and more Christlike) direction.
Chan calls for humility on the part of everyone involved in the conversation, and he models that attitude throughout the book (though not consistently; see below).
A section of the book I found particularly good was Chan's exploration of the term gehenna (the most common New Testament word for Hell). He argued persuasively that Bell relies too heavily on later Rabbinic sources to build his picture of Hell. This is a criticism that has often been lobbed at Bell (and more academic New Testament scholars). Chan argues convincingly that while the Valley of Hinon (Gehenna) may well have been the city dump, it occupied a much more important space in the first-century Jewish imagination as a metaphor for judgment.
Finally, Chan's passion came across clearly in the pages. The same has been said loudly and often by Bell's critics (phrases like, "He's clearly writing as a pastor who is tired of doing funerals" and the like). Here, though Chan's passion seems to be for the Bible itself rather than for persons to whom he's ministering. The closest he gets is observing the people around him at Starbucks while he's writing the book.
That said, he does offer a pretty good chapter about what the doctrine of Hell ought to mean for Christians. Though he notes that most statements about Hell were directed at insiders – Jews or Christians, he doesn't follow this line of thought any further. Even so, he offers some great reminders that Hell is reserved for everything from harsh words to wealth at the expense of others. He observes, for instance:
Jesus preaches hellfire against those who have the audacity to attack a fellow human being with harsh words. It's ironic—frightening, actually—that some people have written books, preached sermons, or written blog posts about hell and missed this point completely.
The Bad
A problem with the book is its focus. Is this a direct response to Bell's Love Wins? It's been marketed that way. But the book begins as a more general exploration of the doctrine of Hell. But then Chan lobs a few shots at Bell, and quotes him directly. So which is it?
Ultimately, this lack of focus damages the credibility of Chan's arguments.
When he sets up straw men, is he specifically teasing out arguments Bell makes in Love Wins? If so, he doesn't represent Bell's position fairly. If not, then why cite Bell so often as a poster-child for the views he's combating? For instance, early in the book, Chan says,
I don't want anyone to go to hell. The fact is, I would love for all people to stand before Christ on judgment day and have a chance to say, "They were right all along, Jesus."
Bell never says anything like this in Love Wins. Neither do any other authors Chan cites. So against whom, exactly is he arguing here? Chan's tactics don't help the conversation along. Rather than taking Bell's (and others') statements and questions as serious challenges, we're left to wonder if Chan read the same Love Wins as the rest of us. Or why he bothers to bring it up at all if he's not going to engage the book's central points.
Another glaring problem with Erasing Hell is Chan's inconsistent handling of Biblical texts. He's often very good (though nowhere near as poetic or artistic as Bell). But often enough, Chan is flat-out awful.
Take his discussion of 1 Corinthians 15:22, for instance. Paul says,
For as in Adam all die, so also in Christ shall all be made alive.
Focusing only on the back end of the text, Chan argues:
The verse by itself could mean that everyone will end up being saved, but the context doesn't support this interpretation. When Paul says "all will be made alive," he's clearly thinking about the resurrection of believers at the second coming of Christ.
He goes on to argue this from Paul's use of the word 'all' in later verses clearly to mean believers that in this verse, the 'all' who will be made alive in Christ must also refer only to believers. But a foundational rule of interpretation is that we start from the inside and work out. Do only believers die in Adam? No, of course not. So the 'all' in the first half of the sentence has a different meaning from the 'all' in the second half of the sentence? Maybe. But Chan doesn't address that. He skips over it, ignoring it through some clever selective quoting.
Nor is that the only place Chan oversimplifies or simply ignores portions of texts; I found his handling of Paul's sermon to the Athenians on Mars Hill particularly awful. Which isn't ironic at all.
Mistakes like these cast a suspicious light on the rest of Chan's work in the Scriptures. Ultimately, he seems to be doing the exact thing Bell's critics claimed: reading the Scriptures through a lens that helps him to see what he already wants to see.
The Ugly
My biggest problem with Chan's book is his seeming inability to be self-reflective. Not once does he acknowledge his own influences or biases.
Chan assumes an air of final authority because his reading of the Bible is absolute and uncontestable.
He says of his observations,
Everything I've said thus far seems clear to me from Scripture.
Chan beings by writing about how much he agonized over writing the book, over not wanting to get this stuff wrong. He challenges his readers to pray as they read (which I did). This is the same thing the Mormons do when they ask you to read the book of Mormon. The problem is that when we read the Bible isolated from a healthy diversity, we can't hear the Spirit speak to us. We only hear people who already agree with us. Chan mentions several times that he only used 'conservative' commentaries. No surprise his views come out so traditional – he already agreed with his 'conclusions' and only listened to people who did too.
Chan's reading of the Scriptures (like all of ours) is bound to a particular perspective he doesn't (can't?) see, or at least doesn't acknowledge. He assumes, for instance, that the Bible's picture of Hell develops over time, but not the Bible's image of God, somehow. We are allowed to confess that the picture of Hell in the New Testament is different and better than the sheol of the Old. But God's character isn't more fully revealed in the New. Whatever attributes and characteristics God displays in the Old must be uncritically smashed into the character of Jesus. Why? Chan doesn't answer. He doesn't seem to see a conflict.
Something Bell got right in Love Wins is that this discussion isn't really about Hell. It's about the Character of God.
And here, Chan suffers most of all. He doesn't seem to have a clear, compelling picture of God. Chan's God is distant and incomprehensible. We can't question, we can't wrestle. To do so is an affront to God (the Bible's Wisdom literature be damned, apparently). Jesus' incarnation doesn't seem to offer us much help. We are left only to tremble in fear and hope we don't wind up in Hell.
At this point in the conversation, Love Wins offered some excellent reflections on just how complicated this issue is in the Scriptures and in our conversation.
Chan says, for instance,
God is love, but He also defines what love is. We don't have the license to define love according to our own standards and sensibilities.
Fine… I agree. But Jesus did define Love for us in John 15:13: Love is giving up his life for his friends. And then Jesus modeled that by giving up his life for his friends. This has some serious implications for the discussion of the character of God and the nature of Hell, but Chan doesn't seem to take this seriously as an insight into God's character. (Whereas Bell does.)
Or, take Chan's claims about God's other attributes. Chan claims that the attributes of God the Bible lists – just, holy, loving – are all true, but that God's justice, holiness and love are not at all like ours. If that's true, then why even use those words? They become meaningless. We can't have real conversations about God's Justice as the source for human justice if those concepts are radically, unapproachably different. But if they're similar, if in fact one derives from the other, then we end up where Bell does, in a complex conversation about God and Love and Justice and Holiness and how that all plays out. We take the Bible, we take our own experiences of God, and we listen to others' perspectives and we all try to make sense of it all, all the while confessing we probably won't in any lasting sense.
Which brings us back to Chan's take on the Bible. For Chan, the Bible is the final word. God will broker no further discussion or questioning. The problem is that Chan's god – at least in Erasing Hell is a small, tribal god. He loves penal substitutionary atonement and is absolutely sovereign when it fits Chan's arguments (otherwise, we totally have free will). Chan tells us we just have to take the Bible (and by extension, God) at its word. But what he means is that we have to take Chan's reading of the Bible (and by extension, Chan) at its word. And that's the insurmountable problem in Erasing Hell for me.
Bottom Line: Chan's book seems rushed to press. He brings virtually nothing new to the table, and doesn't offer much to the conversation you can't get from watching the video. Skip it.
Have you read the book? What do you think of Chan's position? Of his attitude towards Rob? Is this book ultimately helpful or hurtful?
*Even though there's a coauthor, Chan notes early on that they wrote the book in Chan's tone. So I'll only address him in the review.